Mobile app for insurance MobiCS is a media application that is focused on the Customer.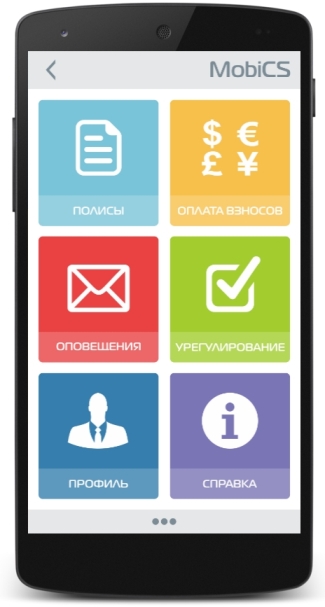 Key features
To get access to all system's policies and examine current insurance conditions of each policy
Displayed data for each policy:
Policy number, date of the policy
Insurance period
Insurance Program
Periodicity and amount of contributions
To receive various events notification
Insurance company can notify the customer about various events (stocks, need to pay for the policy or the fact of the insurance case settlement) automatically or manually. Notifications come regardless of whether the application is running or not. Sent messages are displayed in "notification area" of the mobile device, similar to the notification of the received SMS. Depending on the purpose of the notification, the customer can click the appropriate form.
To pay insurance premiums
The client can pay the premiums under the policy with a help of mobile applications by plastic cards of any bank.
To follow-up settlement state
"Settlement checklist" helps the customer to follow-up the insurance claim payment easily and quickly.
To have access to useful reference information
Application has a static reference information (company history, contact phone numbers, addresses of offices, etc.).
Data Security of the Insurance Company
mobile device receives the data that is stored in the database of the insurance company via the Internet. Herewith, mobile devices access to a special service, developed by our experts, that works with the database of the insurance company in a protected space. It ensures data security.
Adaptation and setup
Mobile application can work with the most popular databases, use the design according to the customer's corporate style and also extend needed functionality.