01 Nov 2017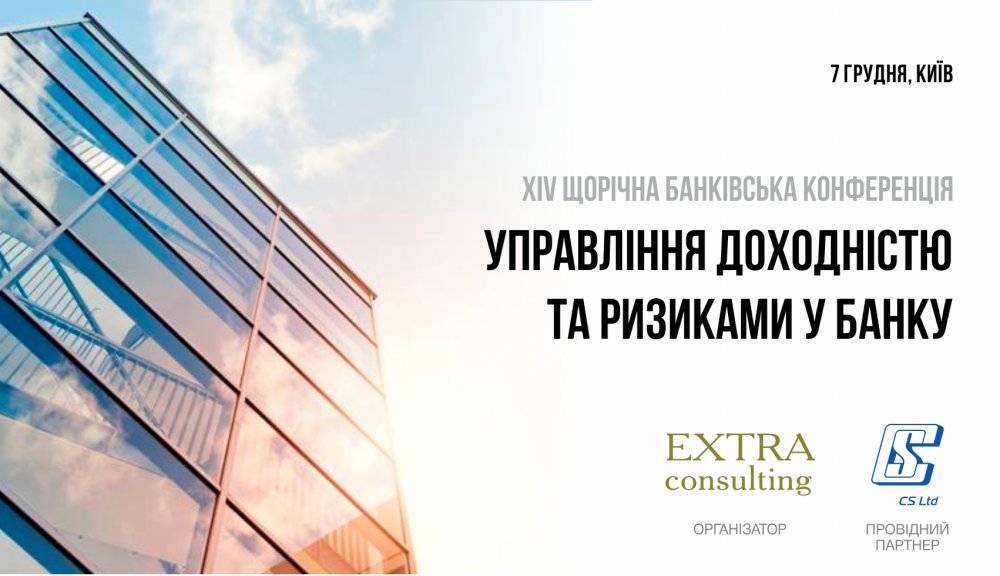 The XIV Annual Banking Conference "Profitability and Risk Management in Banks" will be held on December 7, 2017 in Kiev, Ukraine, at Hotel Rus.
Conference organizer: Extra Consulting
Leading conference partner: CS Ltd
The purpose of the conference is to present the strategies of regulators in the supervision of the financial sector and the innovations of banks in the area of ​​risk management and finance, review financial stability in Ukraine, share the experience in implementing IFRS 9 and use of modern technologies in these areas.
This conference has traditionally completed the year, gathering bankers to discuss strategic perspectives related to risks, finances and technologies.
The Conference Speakers (confirmed):
Katerina Rozhkova, Deputy Governor, NBU
Dominique Menu, Head of Representative Office, BNP Paribas in Ukraine and Kazakhstan, Member of the Supervisory Board, Ukrsibbank, Member of Steering Committee, GARP Ukraine
Vitaliy Vavrishchuk, Director of the Department of Financial Stability, NBU
Bogdan Lukasiewicz, Director of Department of Financial Accounting, NBU
Igor Kozhevin, CFO, Deputy Chairman, FUIB
Oleg Soroka, CFO, Raiffeisen Bank Aval
Igor Budnik, CRO, NBU, Member of Steering Committee, GARP Ukraine
Taras Prots, CRO, Board Member, OTP Bank
Vitaliy Dydyshko, FRM, CRO, Alfa Bank
Dmytro Kolechko, CRO, Board Member, VP Bank (Vietnam)
Olena Dmytrieva, Deputy Chairman, Globus Bank
Vadym Berezovik, Advisor to the Chairman of the Board, Ukrgasbank, Member of Steering Committee, GARP Ukraine
Andrey Glevatsky, Director Of The Department Of Retail, Market And Operational Risks, Raiffeisen Bank Aval
Dmytro Oleynyk, Director, Credit Risk and Asset Evaluation Department, Oschadbank of Ukraine
Olexiy Nazarov, Head of Market Risks and Risks of Financial Institutions, Raiffeisen Bank Aval
Irina Romanenko, Data Origination and Collection Lead, Erste Group (Austria)
Sergey Fedorov, IT Director, Piraeus Bank
Lyubov Kvach, leading analyst, head of the active banking operations support department, CS Ltd
Yuriy Antonenko, head of the development group on risk assessment

, CS Ltd
Please contact +380 44 227 81 73 or e-mail: office@extra-consulting.net in order to participate in the conference.