26 Sep 2013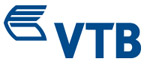 First stage of the IFRS automation in PJSC "VTB Bank" is finished. It included loan portfolio generation and reserve calculation according to IFRS.
This functionality was implemented in "IFRS::Process" program complex based on ABS B2 and "CS::Business Intelligence".

Successful implementation of the project became available due to the good communication between employees of the Risks department, Bank's financial department and the implementation group of the CS Company.

This program complex enabled to automate loan portfolio and reserve calculation generation according to the International Financial Reporting Standards with results displaying in a Oracle BI view.

Next implementation stages will cover automation of all other IFRS accountancy generation.

About VTB Bank
VTB Bank is a stable universal bank, member of the group of biggest banking establishments of the country according to the classification of the National Bank of Ukraine.
The bank major profile is complex servicing of large corporate customers, small and medium-sized businesses, retail banking.