22 May 2020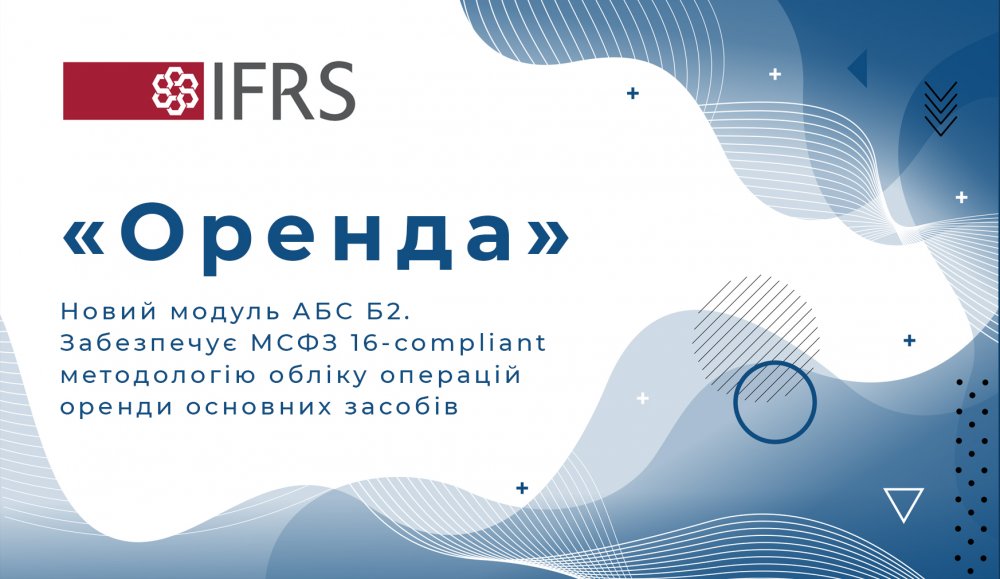 CS Company has developed the solution that integrates IFRS 16 requirements into the CBS B2 functionality — flagman product of the CS Company.
IFRS 16 Leases implements the most common models for the fixed assets acknowledgement and recognition in the national practice.
The Leases module is a complete solution that supports IFRS 16-compliant accounting methodology of the fixed assests leasing operations — as own assets so taken into the temporary use ones. Banks-users are allowed to vary the accoounting approaches according to the standard.
The module implements the maintenance and accounting of all types of lease agreements:
the lease of the bank- lessee in accordance with the IFRS 16 requirements;
the lease of the bank-lessor including operating and finance lease;
operating and financial sublease.
Main functions and characteristics of the Lease Module
The module implements leasing instruments accounting using the effective interest rate with an amortization of contract payments for the whole expiration period of the instrument.
The module enables to lease one object to some lessees and devide the rental fee into a permanent rent (office rent) and a variable one (chargeable services).
The module takes into account the "floating" components of the contract, that are built into the rental instruments: currency rates (for agreements nominated in foreign currencies), inflation rate and similar index indicators.
The module provides flexible opportunities for revising parameters of rental instruments (rebuild of payment schedule and amortization schedule, including repeated rebuild in the case of changes in contract conditions or other parameters) with an automatic assessment and display of the instrument fair value changes in the accounting and with a storage of the historical revisions.
Benefits of the Lease Module
Flexibility — the module performs in two directions: the bank that uses this module can be a lessee and alessor, including simultaneously (for various fixed assets), operating the expense and profitable lease in a single software solution and under the one methodological approach.
Integration — the module is integrated with the CBS B2 module — "Fixed Assets" in the implementation of fixed assets primary recognition (installation) and revaluation on the 4th grade of the balance sheet within the revision of lease agreements. The Lease module can be integrated with similar functional modules for maintaining fixed assets of the third-party CBS.
Operational risks reduction — the module interacts with the CBS B2 mechanisms for creating reserves and calculating credit risk according to the requirements of the NBU Board Resolution № 351. It allows to reflect the impact of active leasing operations on the bank's overall exposure to credit risk and regulatory capital on the regular basis and to generate mandatory reporting correctly.
More details about the Lease Module you can find here.