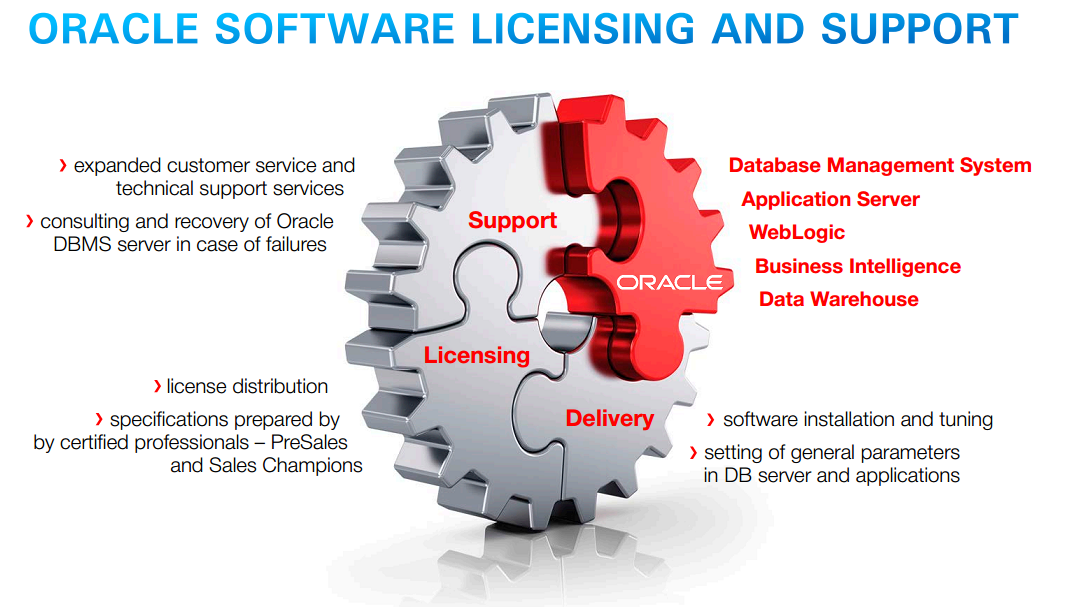 Being a Platinum Partner of Oracle Corporation, CS distributes licenses to use Oracle software and provides support on delivering, deploying and using of Oracle Database Management Systems (DBMS).
Licensing
CS is authorized to distribute licenses:
Full Use (FU) License means granting rights to use Oracle full-featured applications. Such a license may be used with any applications running on Oracle products. Technical support is provided by Oracle experts.
Application Specific Full Use (ASFU) License means granting rights to use Oracle full-featured applications only with a certain product. In this case technical support is provided via the application vendor which provides both Oracle software and own product. This variant is more cost-efficient for a customer as support covers the whole software complex and brings operation effectiveness. Within the complex project CS provides Oracle DBMS and CS B2 delivery, ASFU licensing and complex technical support.
Deployment & Support
CS provides services of Oracle software installation, tuning and support.
Our longstanding partnership with Oracle corporation and our Oracle certified specialists' competencies in database sales and administration ensure a high-expertise support at all the stages of Oracle software usage cycle.
Demo of Oracle Enterprise Solutions
CS representatives participate Oracle Corporation events, dedicated to Oracle Enterprise and Business solution promotion. Our experts are always well informed about the latest innovations by Oracle and ready to make a solution demo for your company.
If you are interested, please, drop us a line by e-mail and we'll get started.