Customer Support
Project support and warranties are an integral part of our IT solutions. Depending on a product suite, delivered to our customer, we can provide support and maintenance both for our products and for Oracle products, DBMS and hardware.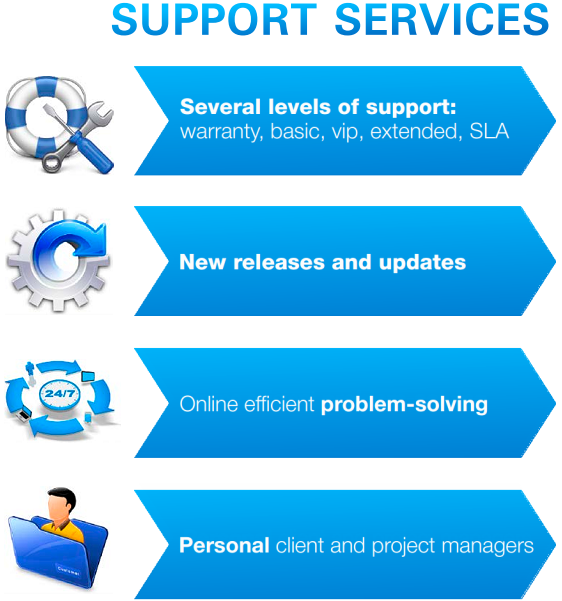 Power of Expertise
Support services are provided by a qualified team, experienced in accounting, financial analysis, banking and DBA. The experts of our Support Center are appreciated by the Government authorities and involved in the National Bank committees on legislation amends.

We offer our clients several levels of Customer Support to give you the flexibility to choose the level of support you need.
Basic Support
Investing in our solutions, you can expect to gain the comprehensive service suite:

24/7 access to the Customer Zone to
access portal, knowledge base, manuals, webinars, etc.
log in to our Bug tracking tool (BTT) to resolve incidents or make an issue to start a new project
download Software Updates, provided according to the release policy
hotline access for critical case-solving: +38(067) 162-59-52
access to support managers for consulting on Software administration, maintenance and usage
updates to comply with regulatory requirements
Extra services
Customers experiencing tight project planning, dynamic business increase or employee skills gaps may need additional support services:
SLA, delivering faster responses to meet your business demands
stress-testing on a customer's anonymized database
audit of business and technological processes
system optimization for the most efficient usage of hardware-software complex
individual training at a customer's office, etc.
Power of Communication
If there is any query or wish, please, drop us a line, call or log in the Customer Zone.
Training Center
Striving to help our customers in gaining the highest value and efficiency while using CS solutions and to close skill gaps, we provide our customers with flexible ways of studying from beginner to advanced:
post-deployment training at your location
annual conferences and seminars within CS IT Community events
annual training courses
regular post-release webinars on new system features
individual training on demand
You can download our Event Calendar, containing seminars and training course schedule in our Press-Center.

Our training programs are proved in their efficiency to suit business requirements and to ensure you are getting the best from CS products implementation.
CS training courses
Goal is training of highly qualified administrators, technologists, methodologists and experienced users of CBS B2.
Place: CS Office, 1а Mykoly Ljeskova St, Kyiv
Certification
We offer you the opportunity to obtain the "CBS B2 Certified Specialist" status, which is confirmed by the certificate of the CS standard pattern.
The certificate is valid for 3 years.
Certification procedure:
1. Send application, specifying the name of the candidate, the name of the organization and the name of the training course
2. Bank or the candidate himself pays the cost of certification.
3. The candidate receives an invitation with the date, time and place of testing.
4. Testing.
5. Certificate is sent by post if the test is passed successfully.
If you are interested in our Training Events, get in touch with us. We will be pleased to answer any queries regarding the above.