02 Mar 2017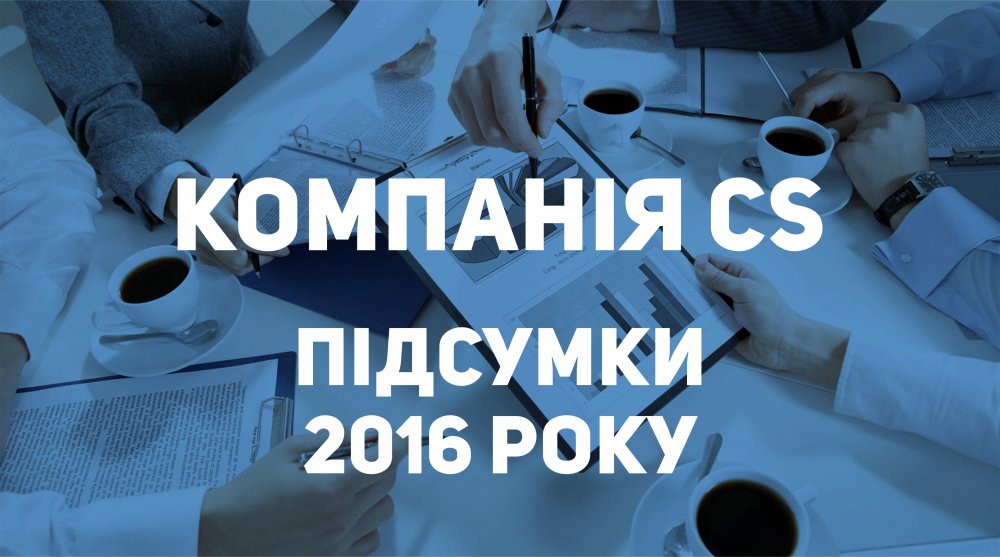 CS Ltd, IT solutions and services vendor, sums up the results of 2016 in advance of its 20th anniversary.
Despite the lack of growth on the Ukrainian banking market in 2016, the market share of CS solutions have demonstrated a positive and stable trend and made up 51%, an increase of 2% over 2015 outcomes.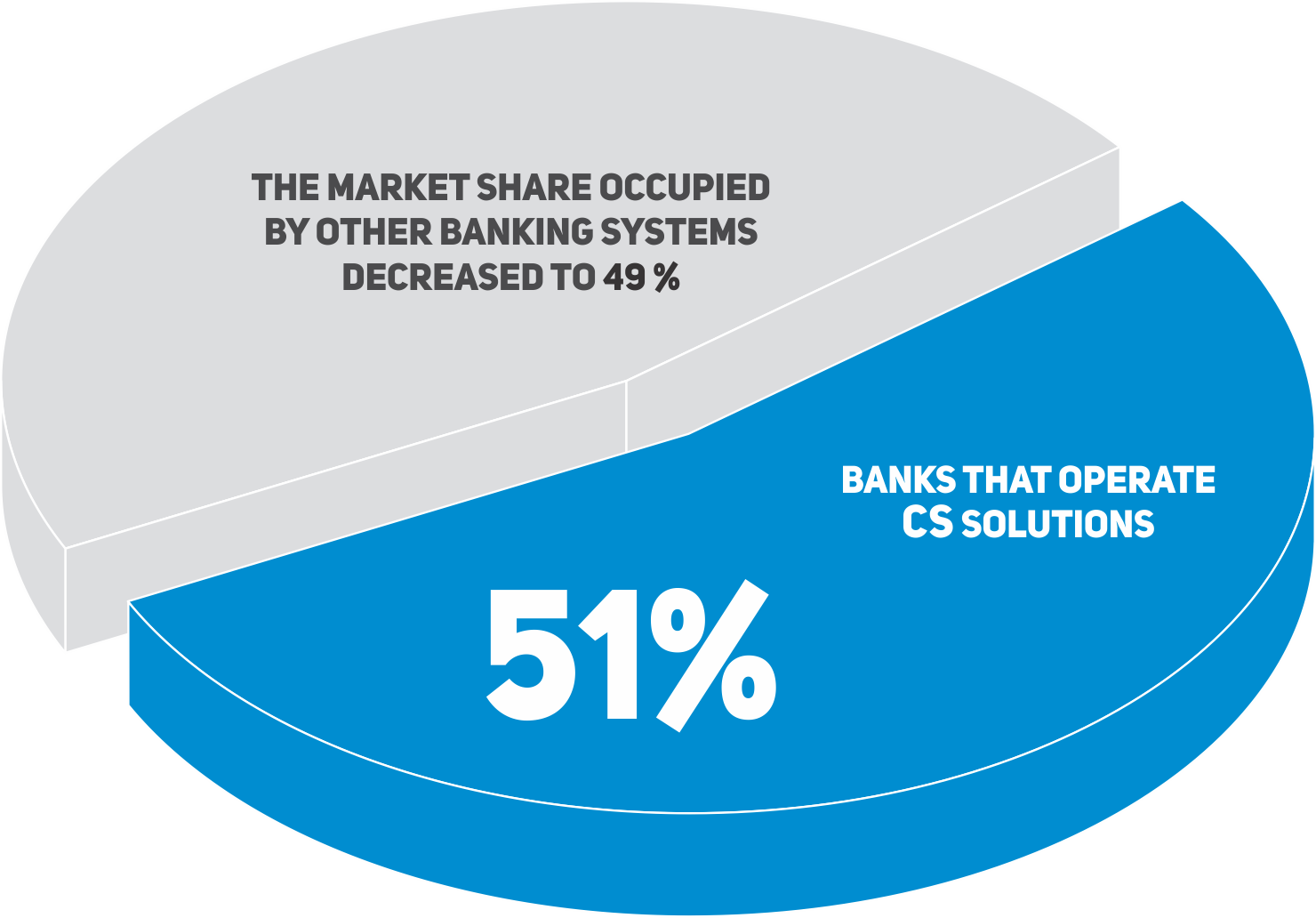 There are 93 banks in Ukraine according to the NBU website dated 2.03.2017. 51% of them use CS software
CUSTOMERS
PJSC Industrial-Financial Bank, PJSC Lviv Bank, JSC Ukreximbank and PJSC CREDIT AGRICOLE BANK became new customers of the CS Ltd in 2016.
Project in PJSC Industrial-Financial Bank was to upgrade bank's IT landscape. The upgrade was achieved through CS key solutions implementation – core banking system (CBS) B2, HRM&Payroll::eCSpert Human Resources Management and Payroll Preparation System and iFOBS.Corporate – online banking for corporate customers. And also through the bank's migration to the new card back-office.
PJSC Lviv Bank has migrated to the CS banking software suit that includes the CBS B2 – core banking system for bank automation and optimization, online banking systems – iFOBS.Corporate – for corporate customers and iFOBS.WebPrivate – for private customers. Both online banking systems were successfully integrated with the FUIB processing center.
By the end of 2016 the first phase of the JSC Ukreximbank project on IT infrastructure upgrade based on CS solutions was finished. The work undertaken has implemented basic CBS B2 modules. iFOBS online banking system and CS::BI analytical system implementation is ahead.
B2::FinMon financial monitoring module of the CBS B2 was launched into commercial operation in PJSC CREDIT AGRICOLE BANK.
PROJECTS
One of the most significant projects of 2016 was PJSC Prominvestbank migration to the integrated core banking system – CBS B2. The major feature of the project was its quick implementation. The project implemented just in two months enabled the active operation of key CBS B2 modules and additionally to migrate all customer deals and General Ledger data.
HRM::eCSpert Human Resources Management System was launched in PJSC First Ukrainian International Bank (FUIB). The system works together with the Boss-Kadrovik human resource system as a subsystem of payroll preparation for employees.
The complete version of theISMA Managerial Accounting System was implemented in PJSC PIVDENNYI Bank and in PJSC CREDITWEST BANK. In its turn PJSC ING Bank Ukraine launched the ISMA system's module – "Split Currency Position".
Apart from the ISMA system PJSC CREDITWEST BANK also implemented the iFOBS.Corporate.
iFOBS.WebPrivatewas successfully launched in PJSC CRYSTALBANK and PJSC Globus Bank.
A special feature of the project in PJSC Globus Bank was the iFOBS.WebPrivate system's integration with the UkrCard processing system.
The new web-version of the online banking for small and medium-sized businesses – iFOBS.SME was implemented in PJSC Alfa-Bank. Interface design and system's functionality has undergone fundamental changes. The design of the user's interface closely reflected the solutions for private customers and the basic operations were switched to the main working system form. It enabled the system's users to connect to online banking and manage funds on their accounts much easier.
Cooperation between CS Ltd and PJSC OTP Bank was particularly fruitful in 2016. Three joint solutions were launched:
iFOBS.PINSetUp system – enables the user to change payment card's PIN code through the online/mobile banking interface;
iFOBS.TUBACS system – automates cooperation processes between the bank and its partners in co-branding programs;
iFOBS.API module – the iFOBS system's services set provides interaction with the third-party systems and enables anyone to use various services online: buy tickets, refill mobile account, pay providers services via OTP Bank's partners websites or partner ATM network.
In 2016 iFOBS.MobilePrivate mobile banking systems were implemented in PJSC PIVDENNYI Bank, PJSC VERNUM Bank and PJSC Globus Bank.
Customers of the PJSC SEB CORPORATE BANK now can use iFOBS.MobileCorporate – mobile banking for corporates in a version for smartphones and tablet computers.
iFOBS.MobileSelfEmployed – the new module for self-employed individuals was specially developed for customers of the PJSC OTP Bank.
SYSTEMS DEVELOPMENT
B2::Cards card back-office module
B2::Cards card back-office module has received active development.
Current functionality enables to:
open cards of different payments systems (local, international – MasterCard/Visa, internal – NPS PROSTIR);
support all types of payment cards;
support magnetic strip card, chip and combined cards;
issue and service cards for third parties;
service cards in different currencies;
link the unlimited number of additional cards (even cards of different payment systems) to one account.
Today the complete or partial version of the B2::Cards module is operated by three banks of Ukraine – PJSC MOTOR-BANK, PJSC Industrial-Financial Bank and PJSC Alfa-Bank (the "card limits calculation" and the "financial authorization" were implemented).
CBS B2 for microfinance
In the end of 2016 CS Ltd spoke about the Oracle Cloud use for CBS B2 in microfinance at Oracle Digital Day.
The CBS B2 System supports a wide range of loan products, including:
Lending risk evaluation and scoring
Personal loans (Classical, Annuity, Discounted)
Business Loans (secured or unsecured)
Lines of Credit
Group Lending
Loan Portfolio analysis and monitoring
EVENTS
In 2016 CS Ltd held more than ten business events – conferences, seminars, business-breakfasts and spoke at several partner events.
In the summer of 2016 specialists of CS Ltd provided their expert opinion at NBU seminar for the first time. In its turn NBU supported the CS return event.
One of the leading CS events in 2016 was CS NETWORK 2016 (former name for CS Annual Banking Automation Conference). It was held on June 8-11, 2016, in Lviv. HP Enterprise, IBM and Oracle companies traditionally supported the event that gathered more than 160 participants from banks, financial organizations and international IT companies.
In addition to its own events CS Ltd was a partner of the first SWIFT Business Forum organized by SWIFT and UkrSWIFT Association and the Oracle annual conference – Oracle Digital Day.